Workshops and Team Building
Give it a try with us! We have all the instruments, rhythm and energy necessary – all you need to bring is the will to learn something new. Rhythm is the cornerstone of music. Everybody tunes to the same wavelength during our workshops. The drumming workshop is a great tool for team building and strengthening. It is also the perfect addition to parties, celebrations, weddings or wherever you want a different and special experience for your guests. We have enough instruments for around 150 drummers.
"It was the best what we tried in last years. I have never believed that you will make all people so happy and excited."
The workshop is led by percussionist Jakub Škrha who has lived and studied percussion in Rio de Janeiro, Brazil. During his time there, as a member of a drum orchestra playing with samba bands, he was the only Czech national participating in the famous carnival. In the course of the workshop you will hear some of the stories from his amazing journey in Brazil and at the end together we will form a samba band playing like the ones at the Rio de Janeiro Carnival.
"There is excellent feedback from everybody. You summarised every topic about team building in your workshop."
During our workshop you will learn rhythmical exercises which will improve both your individual skills and rhythmical feeling. We will show you everything you can do with your body. We will introduce you to the world of body percussion. You will try the magical Boomwhackers, special tubes with different tones, but that together can play any song. And mainly we will play the drums. We will show you the techniques needed to play and teach you samba and other rhythms so that at the end, we can create a big drum band with the sound of the Rio de Janeiro carnival together.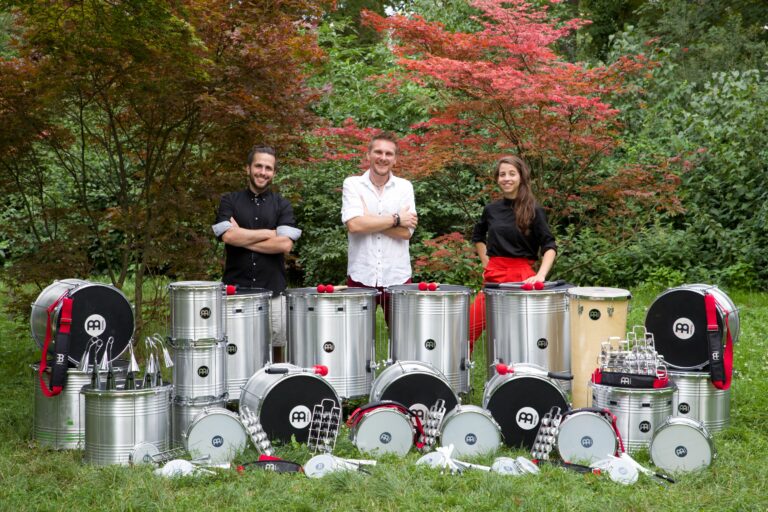 "You were totally amazing. If I will know you before that I will invite you to my wedding."
Team Building - Full Experience
This alternative is a great choice for team building and strengthening. We focus on key factors such as synchronisation, faith, tolerance, respect, coordination, planning and more. You can look forward to rhythmical exercises, body percussion, magical tubes called Boomwhackers and, above all, drumming. We will show you the techniques needed to play, teach you samba and other rhythms and at the end we will create a big drum band together with the sound of the Rio de Janeiro carnival. Duration is from 60 to 90 minutes.
Let's taste the world of rhythms and drums. It is the perfect accompanying programme for your event. Your guests will have a lot of fun and you will give them a very special, unique experience. It is a great choice for parties, company functions, weddings, family festivals, balls, celebrations and most other kinds of events. This workshop works perfectly with our professional modern drum show Ritmo Factory. Duration is from 15 to 30 minutes.